These vibrant colored footloom woven scarfs from the San Antonio region of Guatemala are made with first quality cotton thread. Handmade by artisans in the San Antonio weaving project. The fringes are hand tied. Each scarf is 12 inches wide and 62 inches long.
Meet the Artisans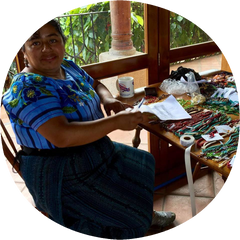 Lucia's Imports LLC partners with Guatemalan families, artisan groups, and cooperatives to maintain a wholesale market for their quality accessories and handicrafts. Lucia's Imports is a members of the Fair Trade Federation and hopes to share the beauty of the Guatemala's art and culture, while making a difference in the lives of Mayan artisans, one purchase at a time.

Working side by side with artisans, we design products rich in tradition and sustainable fashion. Our purses, coin bags and accessories are made from recycled Mayan textiles and our hand-beaded jewelry is made by artisan groups on Lake Atitlan---utilizing traditional weaving skills in modern design.