Handmade from reclaimed car seat belts, this elegant bag is 12 inches wide by 6 inches tall. Lined in reclaimed denim fabric, the bag has an interior zip pocket, a zipper closure, and a single braided seat belt strap.
Meet the Artisans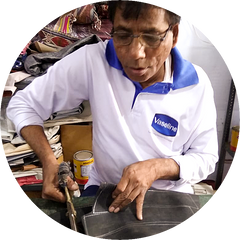 Born of a desire to reduce India's mountain of waste, improve energy efficiency, and help some of Delhi's poorest out of the city's slums, Conserve India achieves all this by turning plastic bags into high fashion handbags.
Conserve started as a fledgling recycling project but quickly adapted to confront the biggest challenge it was facing, what to do with the thousands of plastic bags that could not be composted or recycled locally.
After much experimentation, the Conserve team hit upon the idea of not recycling, but upcycling by washing, drying, and pressing the bags into sheets.  Handmade Recycled Plastic (HRP) was born and designs for handbags, wallets, shoes and belts quickly came flooding in.  The challenge was obvious: Use high fashion to support better lives for the poorest and a cleaner environment for all.